The Diesel Experiment

Jeep 2006 Liberty Limited 4x4 CRD
---
---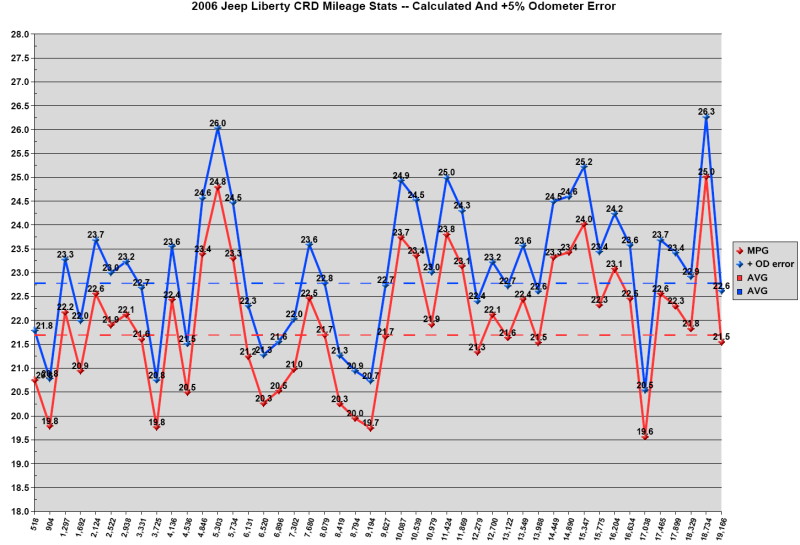 ---

Still My One, Big Gripe

Compare the chart of real mileage above to a typical MPG readout on the overhead EVIC:






The EVIC reports numbers as high as 26.5 MPG for my routine, daily drive between work and home.

The highest peak on the chart (24.8 MPG/5,300 miles and the immediately preceding and following tanks) occurred during extended vacation driving where the EVIC reported a high of 30.2 MPG. From that point the real mileage tended to drop with each tank. The 22.5 MPG high at 7,680 miles (and the following tank) also occurred during extended highway driving which helped firm up my opinion that mileage was dropping. After that the next several tanks just dropped into the toilet.

2006-11-23, 10,000 mile update: Oddly, now that I've publically humiliated my Jeep for lackluster mileage, the MPG has miraculously started rising. First, at 9,600 miles it did 21.7 MPG for strictly routine driving between work and home which had not happened in the last six months. At 10,000 miles it turned in an impossible 23.7 MPG also for strictly routine driving. The only other time it did that kind of mileage was for predominately highway driving.

2006-12-09, 10,500 miles: A repeat performance -- 23.4 MPG.

2006-12-18, 10,900 miles: More or less, a repeat performance -- 21.9 MPG. Expected, taking into account more frequent than usual stop-n-go driving while running errands.

2007-01-02, 11,400 miles: Another repeat performance even higher than before -- 23.8 MPG.

Weird. I suspect we have diesel fairies at night putting more fuel in my vehicle. What makes this weird is that at the same time most other CRD owners see their mileage going down as a result of colder temperatures and winterized diesel.

2007-01-04: A recently discovered variable in the fuel economy formula is that the odometer on many CRDs under reports mileage! An unscientific observation of the highway mile markers vs my CRD's odometer tells me the odometer deviates from actual mileage by 5% to 7%. This means the recent 23.8 MPG results could really be as high as 25.4 MPG! Someday I'll have to get a GPS to verify this. This would also explain why during long driving trips I got the impression it was taking too much time to drive the distance indicated on the trip odometer.

The Mileage Graph above now reflects the probable 5% mileage error of the odometer.


---



This Page Last Updated: 2007-03-03 22:54

www.KenJennings.cc
©2000-2007